Tiger Woods: Victim of White American Whores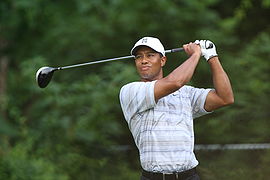 Minority Civil Black "Tiger" Woods is the greatest golfer in the history of the sport.  He has worked hard and with unparalleled success has become wealthy, admired and envied.  Now Tiger has chosen not to live amidst the lower-cultured, violent and dangerous, Black American communities and has opted to live in the more peaceful, higher-cultured White American suburbs.  He married a White Swedish woman, lives in a wealthy White community in Florida, has become a multi-millionaire playing a White man's sport, and conducts himself with self-control and poise while under pressure on the golf course.  Tiger has it all: money, sex (with a beautiful White wife—which racial intermarriage is unbiblical since God created the races in order to divide mankind for our benefit, so as to keep us separated lest we unite against God as was done previous to the Great Flood of Noah), and power—i.e., influence in a multitude of areas.
But Tiger has fallen, as do the vast majority of men who achieve such levels of success in life.  And Why? because he accepted the seductive invitations of at least three White women—three White whores—who did not have the decency to respect the fact that Woods was a married man with two young children utterly dependent on their father's faithfulness to their mother.  Yes, this is a sad event and I put the majority of the blame on the White Hollywood whores stalking this land in search of a prey.  Their names are unworthy of mention and will soon be forgotten.  But Tiger and his fall will be remembered.
Apparently, Tiger Woods has serious remorse over his transgression: may it truly be a "godly sorrow that worketh repentance," belief of the true gospel of the Lord Jesus Christ (I Corinthians 15:1-5), which God-given faith will in turn result in the forgiveness of his sins—the greatest need of all men of any race, language, nationality and culture.  May Tiger read Proverbs 7:25-27:
"Let not thine heart decline to her ways, go not astray in her paths.  For she hath cast down many wounded: yea, many strong men have been slain by her.  Her house is the way to hell, going down to the chambers of death."
Tiger's repentance from sin and profession of faith in the Lord Jesus Christ would set the example for millions of other American men—both White and Black—now in the same shameful predicament.  And the Lord would honor his Word when He declared in Proverbs 28:13:
"He that covereth his sins shall not prosper: but whoso confesseth and forsaketh them shall have mercy."
May you obtain that mercy, Tiger, along with your wife's forgiveness.  Then get out on the golf course once again and return to the winner's circle, confident you have peace with God through the finished work of His beloved Son, the Lord Jesus Christ!
Only registered users can comment.