The Pope's Puppets Want to Take Away your Guns as did Jesuits Hitler and Stalin!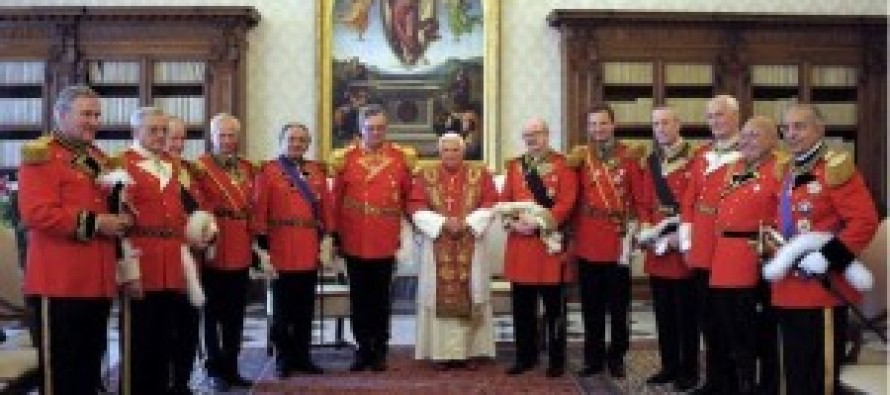 Related Articles
The following article is from one of your editor's political advisers, Rob Hilson.  His work is tops, well-researched and succinctly stated.  Thanks Brother Rob!
_________________________________________
 The Pope's Puppets Want your Guns—All of Them!

It would be hard to find an amendment more manipulated, cursed, vilified, or corrupted than the 2nd amendment of the U.S.  Constitution.  And no wonder!  It was born out of White Protestant and Baptist-Calvinist American Freemen fighting a revolution due to the anti-Christian tyranny of a Jesuit-ruled British king.  The author of that glorious Second Amendment was none other than White Baptist-Calvinist, James Madison!
The post-1868 fourteenth amendment, Counter-Reformation, Holy Roman American Empire (1868-Present) has managed a controlled cancer growth of restrictions over the right to bear arms.  As you will soon understand, this slow-spreading disease will soon become an out-of-control malignancy on all of humanity and will leave U.S. citizens without any defense for the soon to come Sino-Soviet-Muslim invasion, that Brother Eric has described for over 10 years.
But first, some information regarding the tremendous surge of firearm ownership, sales, background checks and permits that have recently taken place..
The facts: (Courtesy of Ammo.net)
Tax revenue increased 48% regarding gun sales since 2008.
1.41 million background checks for firearm ownership were administered in Dec 2011 (most ever in a single month, breaking the old monthly record by 33% recorded in 2008).
United States Gun manufacturer, Ruger, reports a 98% increase in sales, $117 million in 2008 to $232 million in 2011.
Ruger's stock price increased 510% since 2008.
3 states report triple digit increases in applications for a conceal carry permit since 2008, Utah up by 161%, Iowa up by 151%, North Carolina up by 128%
The Eight least gun-friendly states in the United States and their leaders serving the Pope:
California—Roman Catholic governor Jerry Brown
Attended St Ignatius High School
Jesuit trained at Santa Clara University
Entered the Sacred Heart Novitiate, a Jesuit Seminary with intentions of becoming a Jesuit priest.
NOTE:
To purchase a handgun in California, one must have a Handgun Safety Certificate.  This certificate is obtained by passing a written test given by a Department of Justice Certified Instructor.
(Good Luck—This is Mulatto Attorney General Eric Holder's department)
Private sales of firearms must be done through a licensed dealer.
California does not issue concealed carry permits in urban areas (200,000 residents and higher).
Non-residents are forbidden from obtaining a concealed carry permit.
In October 2011 Jesuit Jerry Brown signed a bill that severely restricts the open carry of an unloaded firearm.   The law took effect January 2012.
(Prior to that date, it was legal to openly carry an unloaded firearm.)
 
Massachusetts—Black governor Deval Patrick
Assistant U.S. Attorney General under Georgetown Jesuit-trained President Bill Clinton
Appointed Assistant Attorney General Civil Rights Division under Clinton
On the Board of Directors of Coca Cola Inc. and the Ford Foundation,  both controlled by the pope's  CFR and Knights of Malta via the Archbishop of New York City and his Jesuit advisers at Fordham University.
NOTE:
Only a "Class A" License to Carry (LTC) permits the possession and carry of large capacity handguns, rifles and shotguns, in MA.
Only the local police issue resident gun permits.
A license is required to possess or purchase ammunition.
The Roman Catholic Communist Commonwealth of Massachusetts Prohibits open carry of long guns.
The state also Prohibits dealers in to be in residential areas and other "sensitive areas" (i.e., Black areas).
New York—Roman Catholic Governor Andrew Cuomo
Attended Archbishop Molley High School
Jesuit-trained at Fordham University
     Roman Catholic Manhattan District Attorney Cyrus Vance, Jr.              
New York City District Attorney
Jesuit-trained at Georgetown University Law
Taught trial advocacy at Jesuit Order's Seattle University
Son of Cyrus Vance Sr., Ex. Secretary of State and CFR-member
Cyrus Vance Sr.
Attended Yale and was a member of  Skull and Bones, 1939
Former Deputy Secretary of Defense under Lyndon Johnson
Secretary of State under Jimmy Carter
Former Federal Reserve Chairman—Bank of New York
Former chairman of The Rockefeller Foundation centered in Italy
Cyrus Vance, Jr., has made headlines recently by filing charges against Ryan Jerome.
Jerome, a licensed handgun owner and jeweler from Indiana, made the mistake of asking security guards at the Empire State building where he should store his handgun while he and his wife visited the building.  Jerome was promptly arrested.  Vance, Jr.  has refused to drop the charges against Jerome.  He faces 3.5 years in prison for illegally carrying a firearm without a New York permit.  Meanwhile, Vance has been initiating his own gun buy-back programs recently, in communities like Crown Heights and Brooklyn.  Gun owners are offered $200 for their firearm, no questions asked.  It seems that this deal was something that the hypocrite Vance could not offer to Ryan Jerome.
NOTE:
A New York State pistol license is only valid in counties outside the five Burroughs of New York City.  Unless it's validated by New York City, you cannot take your handgun into the city.  And yes, the Archbishop of New York City, Knight of Malta Timothy Cardinal Dolan, is the master of the city, the Cardinal having been surnamed by Pope John Paul II as "The Archbishop of the [political] Capital of the World!"
Open carry of any firearm is illegal.
 Illinois—Roman Catholic governor Pat Quinn
Attended Catholic Fewick High School
Jesuit-trained at the Edmund A. Walsh School of Foreign Service—Georgetown University
NOTE:
Conceal carry by private citizens is prohibited statewide.
Open carry by private citizens is prohibited statewide.
Conceal carry by out of state citizens is also prohibited.
Illinois does not honor any other out of state gun permit.
New Jersey—Roman Catholic governor Chris Christie
Attended Roman Catholic Seton Hall University- School of Law
Christie is 1 of 17 U.S. attorneys to serve on Attorney General, 33 degree Freemason and St. Elmo's secret society member, John Ashcroft's advisory committee.  One of the many Patriot Act's contributors, former Hispanic Attorney General Alberto Gonzales,  also co -chaired the advisory committee.
In 2007, while holding the office of U.S. Attorney General for the district of NJ, Christie awarded John Ashcroft's consultancy company a no-bid government contract to "monitor" Zimmer holdings business activities after problems surfaced amongst Zimmer's hip and knee implants.  The Ashcroft Group made  over 52 million dollars in 18 months of monitoring Zimmer Holdings business practices.
Christie was a lobbyist from 1998-2002.  He, along with his law firm Dughi, Hewitt, Palatucci, lobbied the Securities Industry Association between the years 1999-2001.  Their purpose was to sway the SIA to block the inclusion of securities fraud under the states Consumer Fraud Act.
Bernard Madoff sat on the board of directors of SIA at the time of Christie's lobbying efforts.
NOTE:
New Jersey does not honor any other state's gun permits/license.
It is almost impossible to obtain a gun permit for conceal carry, whether it's resident or non-resident.  Some have had success with the assistance of an attorney or had tight political connections.
6.   Hawaii—White governor Neil Abercrombie
Co-sponsored  Bill HR 1312 in 2007, banning assault weapons.
Was a member of the Congressional Progressive Caucus.
The Co-Chairs of the Congressional Progressive (socialist-communist) Caucus are:
Roman Catholic Keith Ellison
Converted from Roman Catholicism to Sunni Islam
Attended The University of Detroit Jesuit High School
Roman Catholic Raul Grijalva
Co-sponsor Assault Weapons Ban bill HR 1022
Grijalva gets an "F" rating from the NRA
NOTE:   
Hawaii is a "may issue" state as it pertains to concealed carry permits.  (In practice, few if any, are granted.)
In addition to passing a criminal background check, applicants must provide an affidavit of mental health and agree to release their medical records.  This includes long guns and handguns.
First time applicants must be fingerprinted by the F.B.I.
All firearms and ammunition must be registered with the Chief of Police of one's place of business, residence, or one's place of  sojourn
7.  Maryland—Roman Catholic Governor Martin O' Malley
Attended Jesuit, Gonzaga College High School
Attended The Catholic University of America
O'Malley is married to Roman Catholic Catherine Curran O' Malley, a Maryland state district judge.  Curran O'Malley attended Notre Dame Prep high school.  Curran O'Malley's father is Ex-Attorney General Joseph Curran, who attended Loyola High School.   Joseph Curran championed efforts for tighter gun restrictions for gun owners and established firearm trafficking units while serving as Attorney General for Maryland.
NOTE:
Maryland does not honor any other state gun permits.
Prohibits purchase or possession of firearm if convicted of certain misdemeanor domestic violence offenses; and by persons subject to certain domestic violence protection orders.
Prohibits any person from purchasing more than one handgun or assault weapon within 30-day period.
        8. Connecticut—Roman Catholic Governor Daniel Malloy
Attended Jesuit Boston College for both undergraduate and law school
The College Democrats of Boston College presented the Robert Drinan award to Malloy in 2011. (Robert Drinan is an Ex-Boston College alumni and a Roman Catholic Jesuit priest.  It was Drinan who introduced the bill for the impeachment of Nixon in 1974.)
Wife is Cathy Malloy, graduate of Jesuit Boston College
NOTE:
Connecticut does not honor any other state gun permits.
Connecticut is a "may issue" state as it pertains to conceal carry permits
(It is almost impossible to obtain a conceal carry permit!)
Dear Reader,
These are just some of the regulations regarding gun ownership in the particular states highlighted. The writer encourages any reader to investigate all rules and regulations regarding firearm procedure of any state, for his/her own edification and validation.
Know this: the Society of Jesus and its agents throughout this nation are dead set against private gun ownership.  Years ago in an article titled "Hall of Shame" printed by the magazine Guns and Ammo, foremost on the list opposing private ownership of handguns, rifles and shotguns was—THE JESUIT CONFERENCE!
It is time for Rome and her Jesuit minions to leave North America as they have robbed, raped and murdered us for the last 150 years.  For if the Jesuit Papacy is successful in disarming every private American citizen, no restraint will remain in place to resist the Company's impending martial law and subsequent Jesuit fascist military dictator!  And we also will have no means to resist the Order's intended Sino-Soviet-Muslim invasion.
The three greatest mass-murderers in world history are first Mao Zedong, secondly Joseph Stalin and lastly, Adolph Hitler.  All three were trained by Jesuit coadjutors under the guise of being pro-communist Orthodox priests or pro-fascist Roman Catholic priests.  These totally depraved sinners, in service to the Jesuit Papacy, DISARMED THEIR PEOPLE and then MASS-MURDERED THEM.
Shall we suffer the same fate here in North America, the last bastion of Protestant liberty in the world?
Only registered users can comment.