EJP Replies to Bjorn on Future Chinese Invasion of Black Jamaica and Somalia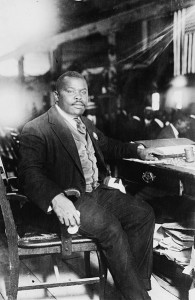 Dear Brother Bjorn,
Thank you for your encouragement and most informative missive.
It is wonderful to see that you understand the Biblical maxim of loyalty to one's race, language and historic culture of a specific nation.  Jamaican racial separatist Marcus Garvey (left) is one of the very few Black leaders that I respect and admire for his honesty.  During the early 1920s he warned of an American Race War within 50 to 100 years, and his warning is right on track.  He was hated by the Jesuits, framed, and sent to prison under the administration of Mulatto American President, Shriner Freemason Warren G. Harding.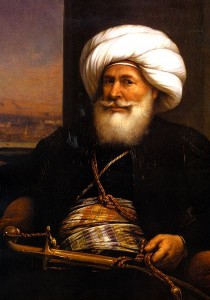 Indeed, the Black Pope is planning to use his "Chinese Sword of the Church" to kill tens of millions of Blacks in the Northern Hemisphere once the Sino-Soviet-Muslim invasion begins in the future.  Do not forget how much the Arab and Turkish Muslims hate you Blacks and will delight in the genocide they will promote.  Do not forget about the Arab Slave Trade carried out by master Muslim slave trader, Muhammad Ali of Egypt.  Zanzibar was the holding place for kidnapped Blacks to then be sent to the slave markets of Muslim Cairo and Muslim Constantinople.
The Chinese invasion of Jamaica under the guise of "workers" is truly shocking.  As you have said, they are taking all the high-paying jobs including engineering.  These Chinese are oftentimes young males and single—evidencing the fact that they are indeed secret soldiers.  It appears the Lord is going to give the "tents of Shem" (the Western Hemisphere) back to the Shemites and away from the descendants of Japheth (Whites) and Ham/Canaan (Blacks).
You also make a telling point on the Chinese moving into Africa with their warships.  The Black Somalis have been driven to economic desperation so as to become pirates.  This in turn will justify their invasion and extermination by the Chinese—who hate all Blacks with a passion.  No Asian nation has ever done a thing for Blacks.  The Chinese, Japanese, Koreans, Vietnamese, Thais and Cambodians all have a common belief—utter disdain for the Blacks, be they Savage Blacks or Civil Blacks, it makes no difference.
May the risen Lord Jesus Christ give us men to preach the true gospel while warning about the Jesuit Papacy's plots against both of our peoples.



I am Jamaica male, listening to your programs and Debuts I find you an Intelligent , Brilliant man whom put his God  first and his races , before all things in life. just like Marcus Garvey.A true nationalist and races firsts, Man who love God seek to do right for is people. For this man, we in Jamaica, are doom to be exterminated by Jesuit, masonic order, and betrayed by our leaders.  Our leaders here in Jamaica divided the people in political war in camps in communities Thief, Corruption in high offices ,Murders, gangs, Savager Crimes, Drugs and demoralized Polices force. This system of Corruptions is prove lent in Africa,South and Central America, certain States, Providence in U.S.A  and Canada and European Countries Great Britain and Frances cities etc were high Black populations is.  In my Country the Education System is destroyed 80% of the study cannot ready more less found a job .




The previous Government policy destroyed Generations of Jamaican, fit for not ,The Chinese are doing well here they expanded more and more in business, they easier to get loans to stared  business than the blacks educated,I am no hater of races of people for the love of God, he send Jesus Christ, to united all to God and is loved for us.  But I notices different in culture, in Africa right now the Middle Eastern and Asians are buy up land for feeding there populations in Middle east and Asian accord to Walter Kansteiner, Frm Assistant Secretary of State for African Affairs, 2001-03.




The Somalia piracy issue has draw Chinese Navy warships to Africa coast which bring a new twisted to Africa 's  saga ,Lived Add concerts  to end Africa's famine and drought was just a waste money , if you cannot teach people to help themselves from be exploited and Slavery.  God help us Black people to bring us in understand with Him and Jesus Christ.



God bless you in Jesus Christ name in peaces
Only registered users can comment.