Englishman Craig Oxley on Masonic Sabbatian Frankist, Shimon Peres
Related Articles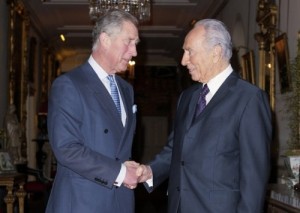 Craig Oxley is tireless in his exposure of the pope's minions.  He has taught me much!  In this instance, Benedict XVI's Hofjuden ("Court Jew") Shimon Peres (left, giving a Masonic handshake with Prince Charles, 2008) administering Rome's "Revived Latin Kingdom of Jerusalem," is the target.   Craig also quotes an extensive article written by my Jewish friend Barry Chamish whom I consider to be the world authority as to the truth behind current events unfolding in Israel.
In commenting to my previous article posted in my website sub-category of "Israel" under "NWO" above, Craig adds these important words concerning the Papacy's Equestrian Order: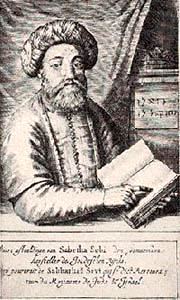 "Please remember folks that the Roman power directly over Jerusalem and the Middle East is via their powerful ancient arm known as the Equestrian Order of the Holy Sepulchre of Jerusalem.  Now remember how Jesuit-trained, Knight of Malta, Juan Carlos of Spain is also within the Equestrian Order of the Holy Sepulchre of Jerusalem.  Jesuit-trained Szymon Perski [Shimon Peres], the Vatican assassin, is a loyal Hofjuden Sabbatean Frankist controlled fully by the Papacy and its shadow ruler, the Zoroastrianist Papal Nobility, Arcana Arcanorum Rite of Atlantis and its Society of Jesus.  Israel is controlled by the order stated above and also the next-in-line Knights of Malta, another ancient crusading order of old.  In the lower-down power structure you'll see how Roman, Westminster controls Israel via The Institute for Jewish Policy Research and of course their U.S. arm, the Council On Foreign Relations.  If you want to study some very powerful beings in this country called "Israel" then I suggest you study both Pierbattista Pizzaballa and Fouad Twal."
For more information and wonderful pictures—worth ten thousand words—see Craig's "The Unhived Mind" website site at this link
A note of correction from Craig Oxley:
**** CORRECTION ERIC ****
Eric you've made a massive mistake in this article which the enemies will harp on and claim your not deep enough haha.  Please rename Prince Philip to the Prince of Wales, Prince Charles.  Also where you have 'court jew' add another " which is missing.  May I also inform you that Prince of Wales means 'Fuehrer' if we took it in German from the Welsh wording which is Tywysog Cymr.  The British Royal family are in fact Germanic, connecting with the Teutonic Knights headquartered right next to missile protected Borgo Spirto Santo, the home of the Jesuit Order World HQ, Equestrian Order of the Holy Sepulchre of Jerusalem and
Sovereign Military Order of Malta.  I believe Prince Charles is ultra devious and far more powerful than he's ever made out.  He's going around telling you what the outcome will be but twisting it to make himself look in favour.  Like he's all for Dr Max Gerson, organic food, herbal medicine.  Its all a game to the illuminist as he plays the we're friendly game like the Vatican constantly does today as a guise to take the heat off.  He was telling us the outcome of Global Warming on population but he was giving us their agenda under the guise of their fraud being pushed on the World via Germanic Jesuit, Ottmarr Edenhofer SJ.  Prince Charles reminds me of symbolism linked with the planet Mercury as a messanger.  I was informed once by ill-informed Moslems that Prince Charles isn't a Mason so he's fine.  This is nonsense as he's within the Order of the Garter which is an inner core of the Knights of Malta tying into the Knights Templar power structure of course controlled by the Society of 'Knights Templar' Jesus.  Once again we see Prince Charles' link to Satan with his use of the Babylonian, Nimrodian phallic and Generative Principle known as the Fleur-de-lis.
So dear Eric if you would like to make my information above an addition
into your article feel free, it would be an extra bonus of course.

Thank you.
Craig Oxley
Only registered users can comment.