Simon and EJP: Jesuit Japan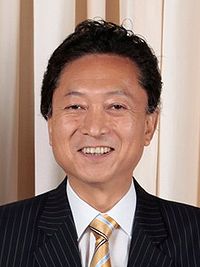 Dear Eric,
The current Prime Minister of Japan (Yukio Hatoyama) is a Communist Freemason who belongs to the Hatoyama Family, a Japanese political family that wields immense power in the country.
What's interesting is that the Hatoyama Family has been called "the Kennedy family of Japan".  Anyone who has done research into the Kennedy family knows that they are all Roman Catholic Papal Knights and, in most cases, graduates of Jesuit institutions.
Yukio Hatoyama's grandfather, Ichiro, was Japanese Prime Minister from 1953 to 1956.  Ichiro Hamoyata was a Freemason masquerading as a Protestant Christian and, it is now known, an asset of the Jesuit General's CIA.  Declassified CIA documents revealed a plan to assassinate Prime Minister Yoshida and put Ichiro Hamoyata in his place.
Ichiro Hamoyata gave birth to a son, who shared his name.  This son served, for one year, as foreign minister under Prime Minister Takeo Fukuda, and married Yasuko Ishibashi, the daughter of the founder of Bridgestone Corporation, which has ties to the military.
Prime Minister Yukio Hatoyama has ties to the New Age Movement, was trained at the CIA/Tavistock's Stanford University, and believes that she knew Crypto-Catholic Scientologist Tom Cruise in her past life.
Prime Minister Yukio Hatoyama's brother admitted connections to the CIA/Freemason/Jesuit Al Qaeda.
Definitely keep an eye on these Hatoyamas. They are most definitely taking orders from the Jesuits of Sophia University in Tokyo, which Kolvenbach addressed and which the current Jesuit general, Adolfo Nicolas, graduated from.  Interestingly, Japan's 79th Prime Minister, Morihiro Hosokawa (1993-1994), was also trained by the Jesuits of Sophia.
We know that the Jesuit-subservient Freemasons and the SMOM Rockefeller family have a strong presence in Japan.
Also know that Tom Cruise, the key actor in "Eyes Wide Shut," is a Knight of Malta.
As you also know, Japan is now breaking away from their American suzerain and aligning with Communist Red China in building the coalition foretold in Revelation 16:12 called "the Kings of the East."  If you could go into more detail of the Hatoyama family working with the Jesuit-ruled, Red Chinese government to this end, I would put it up on my website and address the topic in my broadcast.
The concept is earthshaking—the huge Red Communist Chinese army—built by the Pope's CFR-ruled American Government—uniting with Japan with her huge Navy to invade the West Coast, steam through the new Panama Canal to be completed by 2014 and attack the South East US.  We need to expose this unfolding alliance in the East between Communist China and Cartel-Capitalist Japan and your help would greatly appreciated.
Thanks for the encouraging words, Eric.


Indeed, we can find connections between the Hatoyamas and the allegiance between Japan and China.  Prime Minister Yukio Hatoyama wants close Japanese-Chinese ties. This goes back too.  This page discusses the Hatoyama family's long-time struggle to strengthen Chinese-Japanese relations:

In view of immense changes taking place in the international momentum and the exterior environment, factors for enhancing Japan-China ties are on steady rise. Recalling the past history, Ichiro Hatoyama, Yukio's grandfather, was the longest post-war Japanese prime minister, and he worked hard to normalize relations with China back in 1954, but failed owing to the U.S. restraint policy during the Cold War.  Yuko's father, Lichiro Hatoyama, then Japanese foreign minister in the Takeo Fukuda Cabinet, held talks with China for signing the Japan-China Peace and Friendship Treaty in 1976 but his effort suffered setback due to pressures imposed by the former Soviet Russia.
Amazing, eh?

Only registered users can comment.